Meet Rahnee Bransby, our muse for Lunara, photographed by Rahnee's partner Jian Wong Yen…
We invited Rahnee to curate her favourite pieces from our newest collection; Lunara. Shot off the beaten path on the beaches of south west Victoria. A land of brilliant sunrises and bitter but beautiful cold, the perfect setting for our Winter capsule, Lunara.
Where did you shoot the capsule?
On the Surf Coast in southern Victoria. Although it can get very cold in Winter, it has such a magical coastline and unique landscapes.
You and Jian are always on the road, how do you change your style when you're travelling?

On the road I find it hard to fluctuate between styles, so a tip from me for on-the-road styling is use pieces such as basics or neutrals that can be styled 100 different ways, and include LOTS of accessories like shoes, belts, hats, sunglasses... These can change an outfit dramatically, so that's super important for changing up your styles.
You styled yourself for the shoot – how did you work your accessories in with the pieces?
I based my accessories on what would match each outfit based on what location we shot the outfits at. A lot of my inspiration on styling comes from the feel of the location to match the vibe of it. For example western boots and a hat styled with the Lunara Mirella Maxi Dress in the field, to give it more of a rustic feel.
Another, matching the same tone beanie with the Olivera Odia Sweater in Oatmeal. We shot this one at a cabin so I wanted to give a cosy outdoor winter vibe.
We know a lot of our followers are itching to get back travelling post the pandemic, where do your thoughts run first when considering travelling overseas?

Be aware, alert and safe. Be a little more thoughtful of where you want to travel first, check if it's a hotspot and if it is maybe reconsider the travel plans. I don't think travelling will be as easy and free as it once was, so trying to make it as easy and as free for yourself will be beneficial.
Something I'll be taking into consideration when traveling overseas is planning trips to more remote areas in the world then you're away from the hustle and bustle of it all and there will be a lot more freedom. I've always found remote/isolated places more enjoyable and beautiful, they're a little more untouched.
Jian, how did you capture the mood of Lunara in the shots?
Two things made it a lot easier. Having a beautiful model and a beautiful landscape. Those were guaranteed with Rahns and Victoria's surf coast. The other key parts were making the most of golden lighting, just before the sun sets and rises and choosing soft and natural location
Do you remember your first Tigerlily piece?
Funny story actually, working with Tigerlily was a bit of a dream for me. I remember in school all my friends would have the newest Tigerlily bikinis for summer and I used to dream of having a pair one day. They were always too expensive for me, so the closest I got to owning a piece from Tigerlily was trying on my friend's pieces. The fact I now can say I've shot a whole campaign for Tigerlily is a huge achievement of mine. To see where I once was and where I am now.
What were your favourite pieces from the Lunara capsule to style?

My favourite pieces from the Lunara capsule are the Zaniza Pachua Sweater - Oatmeal. This piece is amazing, it gives such vintage vibes with the zipper turtleneck. I love the tones of it and it's such a different but kept simple vibe jumper.
I also adored the Olivera Odia Sweater Dress - Cream. This piece is amazing because it can be worn in so many different ways, casual for running errands or dressy for a date night. It's super flattering on all body types and is so comfy, I'm all about comfort!
My favourite travel destination in Australia…
By far anywhere south of the Goldie. I recently visited Tugun, Gold Coast and absolutely fell in love with it.
Definitely a goal of mine to call it home one day.
My ultimate self-care ritual is….
Take time for yourself. It's so important to reground and re-energise your soul by spending time with yourself. I'm huge on alone time. I need it to recoup sometimes.
Also SUNSCREEN! Every single day, especially one your face. I never wore sunscreen and my skin lady would yell at me, especially because I live in the sun, but it is so important and I've realised that a lot since I'm starting to get older. Not only for ageing is it needed, but we've got to protect our skin and our health. The Australian sun can do crazy damage, so it's extremely important to be sun smart.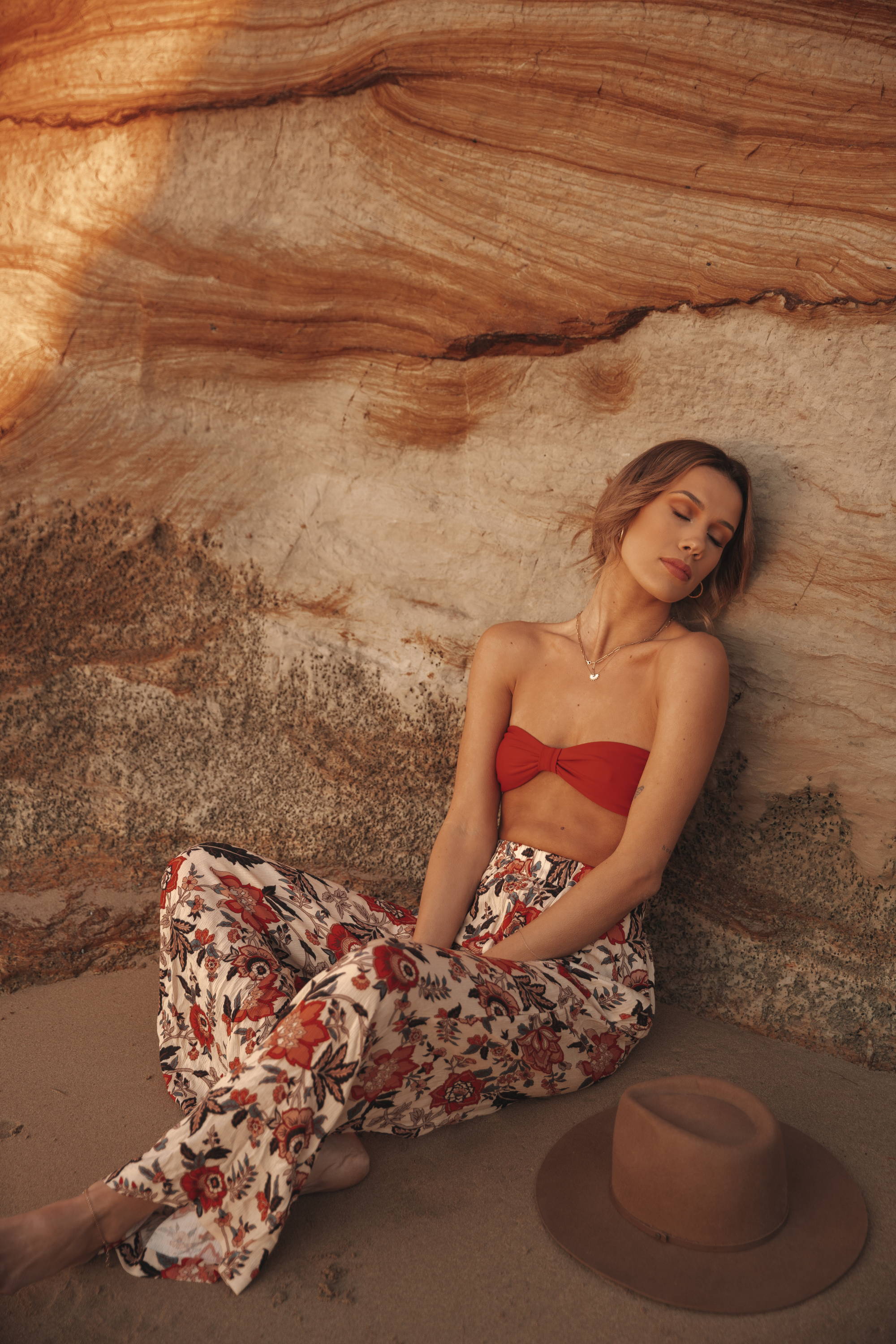 Rahnee wears the Tigerlily Zippora Bandeau Bikini Top - Haute Red and Lunara Alanya Pant - Floral.
My style muses are…
I mostly get my style inspo from brands, but my dream style muses are: Bella Hadid + Sofia Richie. I also love influencers Hanna Schönberg + Belen Hostalet - these women are bloody phenomenal.
My ultimate road trip playlist includes…  
I must admit, I'm a bit of a queen at making roadtrip playlist, but MUSTS in a roadie playlist are anything: Angus and Julia Stone, Fleetwood Mac, Spacey Jane, Hippo Campus, Gang of Youths, The Naked and Famous and lastly my all time fave MISSY HIGGINS. The list goes on and on and on. But I'm a huge lover of Aussie artists.
Words I live by…
''All in..'' - meaning if you're going to do something in life or have thought of it, be All in... or don't bother with it. You only get one of these things called LIFE so why not give everything you've got.
Words: Xina Lam
Creative: Anna Batchelar, Jane Halsall