Meet Daniella Jones, a self-taught painter, romantic soul and talented creative hailing from Copenhagen, Denmark. Born and raised at the dawn of a new millennium, Daniella embodies Into The Mystic perfectly; she's passionate and bold, yet feminine and soft. Sharing with us her love story with painting, her personal style and the process of getting into her creative flow, Daniella is our Mystic muse.
Star sign…
Pisces. They say that pisces are creative, empathic, compassionate and moody - which I think match me pretty much.
I currently live in…
Copenhagen & Barcelona. I grew up in Copenhagen, Denmark and moved to Barcelona a couple of years ago, but due to the current pandemic I decided it was best to come home to Copenhagen for a while until the situation in the world was more safe - however, I am actually moving back to Barcelona next week and can't wait!
First travel destination once I can go anywhere…
Rome - I love it's history and walking round the old streets gives me so much inspiration. It's just one of the most romantic cities I've ever visited.
My go-to music whilst painting is…
Flamenco, jazz and reggae. It's very relaxing and makes me feel good and also inspires me a lot - and I kind of need that when I'm doing my artwork.
My personal style is….
Colourful, playful, feminine - and noisy due to all the jewellery I'm always wearing.
When did you first fall in love with painting and creating art?
It's hard to say the exact time when I first fell in love with painting, because I have always been drawing and painting - when I was younger I even painted on furniture, my walls, nearly everything.
But it was in my early 20's that I decided to quit my job and work full time with my artwork - and I haven't looked back since then.
How do you best get into your creative mindspace?
First I always clean / tidy up my studio to welcome a fresh start - a blank canvas you may say. I then turn on some good music and just start sketching whatever comes to mind or what I'm inspired by at the moment.
Sometimes I watch documentaries about old famous painters to get even more inspired and motivated to be creative while sketching.
What accessories do you like styling your Tigerlily pieces with? 
I like to style them with big statement jewelry, always gold, and a scarf in my hair - and maybe a hat if I'm feeling it.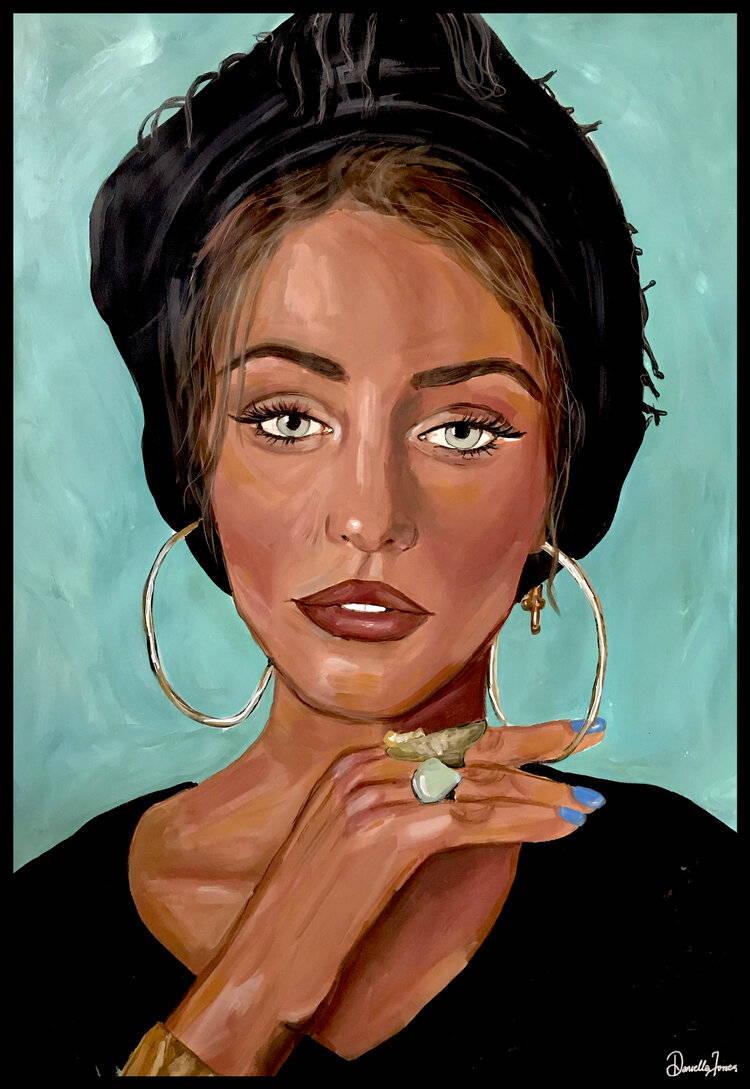 Any advice for those who want to explore their creative side more?
Buy some paint and a canvas and just get started. Use different tools - they're are no rules, it doesn't have to be brushes.
Your goal should never be the final result but the process - it's here your creative side comes through. It's very therapeutic and kind of a meditation.