The long, sunkissed days of summer are here! And with any luck, we will be living in our bikinis all summer long. With a little bit of TLC, your Tigerlily bikinis will stay with you season after season.
We always use quality fabric when manufacturing our swimwear, however, to avoid discolouration, sagging elastic, and bagging, we recommend following the below advice to keep your swimwear looking beautiful for years to come.*
1. RINSE
Rinse out your pieces in cool, fresh tap water after each use. Especially after swimming in a chemically treated pool or if the piece has come into contact with sunscreen or tanning products.
This step helps remove the chemicals that bleach fabric and cause it to deteriorate.
2. CLEAN
We love using this DIY vinegar rinse to keep our swimwear fresh and bright.
Fill a sink with cold water and add ¼ cup of white vinegar. Soak for 30 minutes.
Gently squeeze out the vinegar water and rinse again in fresh water.
If sand becomes logged in the fabric, we recommend waiting for your bikinis to dry and then running a fingernail over the area.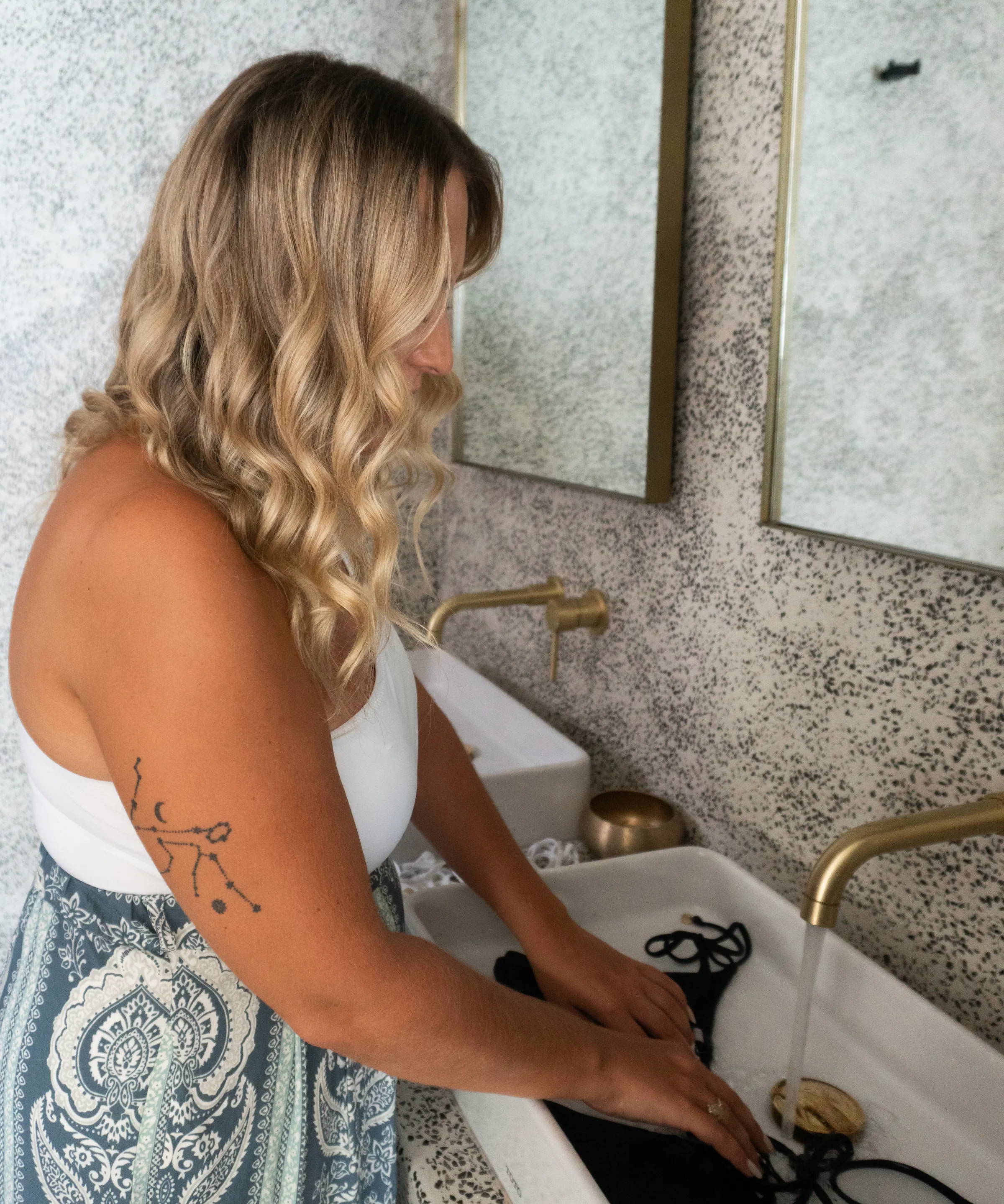 3. DRY
To dry, lay your pieces on a flat surface or gently hang in indirect sunlight. If you need to pack up your wet swimwear, wrap in a folded towel to help absorb the moisture and gently hang or lay out to dry as soon as you can.
Avoid using a dryer at all costs!
4. STORE
If you are like us and have a slight obsession with bikinis, you know how difficult it can be to keep your bikini draw organised. We recommend keeping your swimwear in a draw or a closet and avoid vacuum packing.
Although tempting, pieces with high elasticity content are best kept out of a sealed plastic environment.
5. ALTERNATE
To protect the longevity of your favourite Tigerlily pieces, we recommend alternating between your bikinis and one pieces regularly.
Alternating between your favourite styles will ensure your pieces are kept in the best condition for seasons to come.